Tango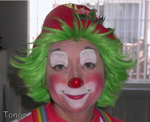 Tango is a wonderful face painter. Click on photos to see her gallery of work. She is a member of San Diego Clown Conspiracy, a local clown alley (club) as well as a member of World Clown Association and Clowns of America International.
Recently, Tango was asked to teach face painting at the 2013 WCA International Convention: The Borneo Adventure in Kaching, Malaysia.
Tango and LoMax have clowned around the world at various locations. Tango has clowned in the United States, Russia, China, Korea, and Viet Nam. Both Tango and LoMax taught Character Development at the World Clown 2012 convention and Steve Kissel's Circus Magic West in 2012.
Together, Tango and LoMax have the LoMax and Tango Clown School where they teach people to be clowns. 40 hours of education including History, Ethics, Costuming, Face Design, business of clowning and various clown skills.