Who are Tango and LoMax ?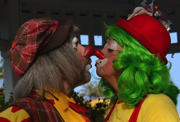 Tango and LoMax are proud members of the San Diego Clown Conspiracy. Based in San Diego, Tango and LoMax have over 40 years of clowning experience. They perform at all types of events, both paid and charitable.
Contact us about your next event and we will provide you with the best possible service.