LoMax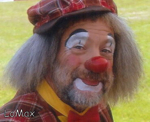 LoMax is a Balloon Twister, Magician (a performing member of the Magic Castle in Hollywood, California) and general all around clown. He is also a member of San Diego Clown Conspiracy, World Clown Association (Vice President, 2011-2012) and Clowns of America International.
LoMax has taught balloon twisting at WCA conventions in both New York and San Diego. He has been awarded gold, silver and bronze metals for his balloons, paradeability, skits and make-up and costuming at local, regional, international and Shrine competitions.
Tango and LoMax have clowned around the world. LoMax has clowned in the United States, the 2005 World Expo in Achi, Japan and at various locations in Russia, China, Korea, Dominican Republic and Viet Nam. Both Tango and LoMax taught Character Development at the World Clown Convention 2012 and Steve Kissel's Circus Magic West in 2012.
Together, Tango and LoMax have the LoMax and Tango Clown School where they teach people to be clowns. 40 hours of education including History, Ethics, Costuming, Face Design, business of clowning and various clown skills.