Clown School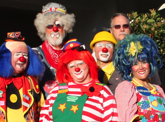 "If you are ready to learn, then we can teach you all you need to know about becoming a clown -- be it a volunteer clown or a working clown."
Class Information
Tango and LoMax will teach you the following skills in their 40 hour curriculum. Classes can be arranged to meet your schedule, both for individuals and groups.
You will learn:
How to apply makeup and "Dress for Success"
Character Development
How to become a "Birthday" clown
The business end of a being a "Birthday" clown
Hospital and Caring Clowning
How to write, stage and perform a skit
Games
Comedy Magic
Balloon Twisting
and much more ...
If you are interested in enrolling, contact us today.